Description:
Champagne ratafia is made by blending Marc or Fine de Champagne with grape juice (must). It is first and foremost an ancestral method for preserving fruit juices.
This harmonious marriage avoids triggering the phenomenon of alcoholic fermentation.
Tasting:
So you will find the natural taste of our Pinot Noirs, carefully selected in our plots of Rouvres-les-Vignes.
Its amber color is warm, with its coppery reflections.
The nose reveals aromas of candied cherry and cinnamon. When aired, we perceive notes of dried apricot evolving towards candied orange and quince.
The Ratafia de Champagne Claude PERRARD represents suppleness and smoothness. A nice touch of acidity at the end of the mouth finally balances the whole.
Food and wine pairing:
The tasting temperature is 6 to 8 ° C.
You will appreciate it as an aperitif or at the end of a meal.
Its taste properties allow it to be combined with foie gras and duck confit. You can also accompany your tagines and game with sour cherry sauce. But also for cheeses such as Bleu d'Auvergne and any type of dessert.
It can also serve as a digestive sweetness.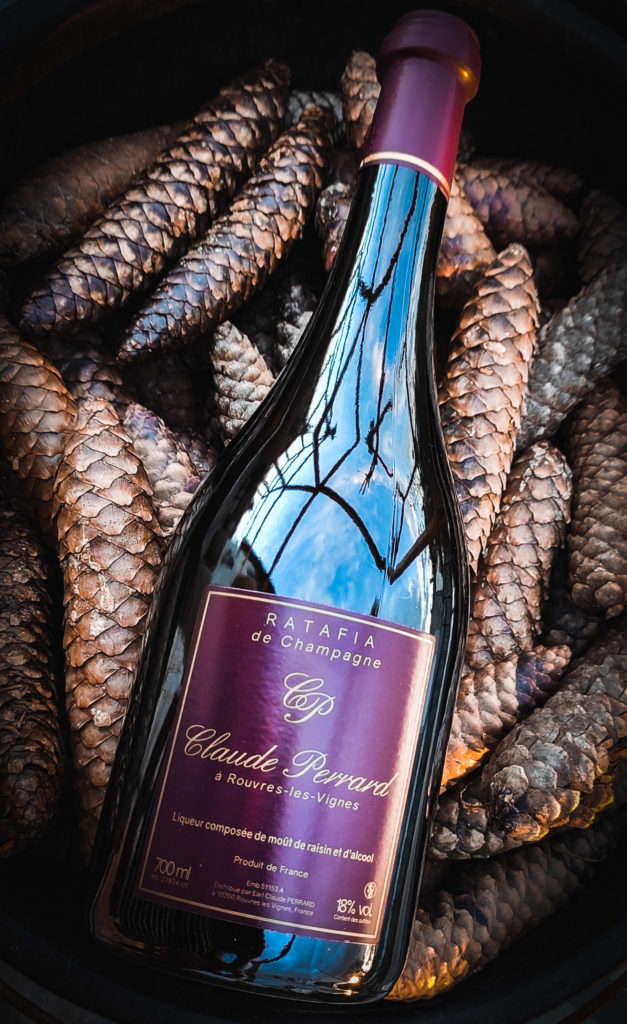 Terroir and recipe:
Note that the oceanic and continental climate is beneficial for our vines AOC Champagne. The annual average temperature in Rouvres-les-Vignes is 11 ° c and the rainfall is 650 mm per year. Also, our vines benefit from the best exposure to the sun (south / south-east). The maturation of the grapes is adapted to the freshness of our Champagnes. Finally, our clay-limestone soil adds the typicity of this terroir to our plots of Chardonnays. It transmits to our wines all their roundness and character.
Come and discover also our Ratafia of Champagne Claude PERRARD. It is a recipe that we have passed on as a family for several generations. It is this passion that gives our vines, our grapes and our wines the best of ourselves. We also transmit a part of our temperament, our character and all our love in each bottle. These values ​​are priceless for us.
Finally, we put our passion at the service of your pleasure.
We are at your disposal if you require further information.
Alcohol abuse is dangerous for health. To consume with moderation.
Order